Who Uses Our Spyware?
Businesses & Government
Agencies - With so trade secret theft and fraud on the rise, governments are trusted pc spyware to monitor their sensitive networks.
Law Enforcement - In the court evidence is king. An our software is designed to log and secure digital evidence.
Parents & Schools - The Internet is becoming a very scary and dangers place. Monitor your kids for peace of mind.
Spouses & Partners - Want to find out the truth about your partners fidelity? Our software will give you that knowledge.
Realtime Spy - Remote Spyware
Realtime Spy is the latest in remote spy key logger software that allows you to REMOTELY INSTALL the monitoring system and access the activity logs from ANYWHERE via you own personal Realtime-Spy Web space! No remembering long IP addresses or directly connecting to the remote PC - all you have to do is point you browser to your appointed address to view logs from any machines you deploy Realtime-Spy on! All logs are password protected and securely stored for your eyes only - and no worrying about waiting for the remote machine to sign-on to retrieve its IP address to monitor it! Undetected by Anti-Virus Software!

Logs all Keystrokes Typed
Logs Website Visits
Logs Applications Opened and Closed
Logs Chat Messages Sent
Logs Emails
Logs Passwords
Logs Typed Documents
Sends Activity Logs via Email
Encrypted Keystroke Logs
Can Log Specific Applications
REMOTE DEPLOYMENT
Powerful Graphical Interface
ALL WEB BASED MONITORING
Runs in TOTAL STEALTH!
Logging and Recording
What Realtime-Spy can Record:
Keystrokes Typed
Log all keystrokes typed by the user. Logs are automatically pre-formatted from backspaces for easy web viewing via your secure Realtime-Spy webspace.


Websites Visited
Log all websites visited by the user. Realtime-Spy supports all the popular browsers (AOL, IE, Netscape, Opera, etc).


Internet Connections
Log all internet connections made and attempted by the user. Logs include the remote host/port and local host/port.


Windows Opened
Log all windows opened and used by the user.


Chat Conversations
Log both sides of all ICQ/MSN/Yahoo!/AOL/AIM messenger conversations!


Applications Ran
Log all applications and programs executed by the remote user.


System Information
Record and monitor system information on the remote machine: uptime, memory, ram, and more. You can also remotely shutdown, reboot, restart, logoff, or freeze the remote PC as well!


System Shutdowns and User changes, E-mails typed, Passwords typed...
Security and Stealth Features
Realtime-Spy is SECURE!
It Runs in Complete Stealth
Realtime-Spy is undetectable to all users. Using minimal PC processing cycles, Realtime-Spy is not visible in any way to the user, and records and stores all logs without any user notification.


Remote Deployable
Realtime-Spy can be remotely deployed easily with just a few clicks and minimal user configuration.


Email Deployment
simply send your configured Realtime-Spy module to the remote PC. The user only has to run the attached file - they do not have to respond or send you any response to start monitoring - and they will not know they are being monitored! (optional splash notice available for non-stealth remote installs)


LAN/Network Deployment
Easily deploy Realtime-Spy over a network via network shares or logon scripts. No user interaction is needed!


Secure Password Protection
All your logs are password protected via secure web encryption. Only YOU can access your secure log webspace to view logs! Realtime-Spy does not put your monitored data at risk - as other remote monitoring tools do - by allowing direct connections to the remote PC for data retrieval: all data is securely stored on our servers for viewing ONLY BY YOU.


24/7 Realtime Monitoring
Realtime-Spy will not stop monitoring if the user reboots - it will ALWAYS record their activities.


Easy to use Web Interface
Realtime-Spy's web interface is extremely easy to use - just point and click the logs you want to view!


Accessible Anywhere!
Realtime-Spy is accessible from any web-browser, from any location. Just access your personal web-space!
Easy to Use!
SpyAgent has always been known as being extremely easy to use. You can have SpyAgent setup and monitoring in seconds with its built in easy configuration wizard and intuitive graphical interface. SpyAgent can even be tweaked to smoothly monitor slower PC's!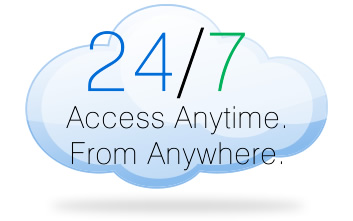 Intuitive Interface
Easy to use, graphical user interface, with intuitive labeled buttons and icons!


Easy Configuration Wizard
Setup SpyAgent in seconds with the built in easy configuration wizard!


Quick Log Filtering
Use the 'sort by day' feature in SpyAgent to easily view activities that only occurred on a specified date, rather than all activities at once.


Speed Adjustment
SpyAgent lets you adjust the thread efficiency for monitoring - this in turn eliminates lag from SpyAgent on slower PC systems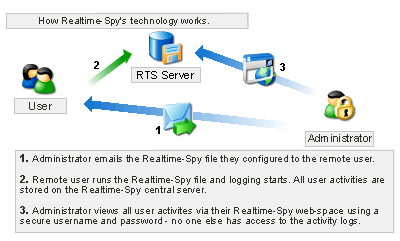 System Requirements
Windows 9x, ME, NT4, 200x, XP, or Vista, 7 or 8
Pentium Class PC (133mhz or higher)
2MB Hard disk space
A Remote Target Computer You OWN or Administrate
MAC
ORDER REALTIME SPY PLUS FOR MAC $99.95
Realtime-Spy PLUS gives you the following benefits over the standard Realtime-Spy purchase:

Monitor TWO computers instead of One ($19.95 value)

Personalized Custom Username ($9.95 value)

Powerful Email Forwarding - Have any emails sent/received on the monitored computer sent to your email address.